Welcome to Lassie Jimmie's Cottage!
Two-story home that was renovated and updated with all of the modern conveniences.
Located in beautiful Northern Bay, only a few minutes from Northern Bay Sands.
Your Vacation Getaway on the Edge of the Atlantic Ocean!
This cottage depicts a charming blend of old and new, while still retaining its original charm.

Description & Amenities
This cottage can accommodate six people with three bedrooms on the top floor. This is the perfect cottage for a larger family stay: Bedroom 1 has a queen bed, bedroom 2 has a double bed, and bedroom 3 has two twin beds.
There is a spacious three-piece bathroom on the top floor, with all of the towels and linens you will need during your stay.
Downstairs, you will find a large, fully equipped kitchen with a full size stove and refrigerator. We have provided all of the dishes and pans you will need for cooking, as well as small appliances, such as a coffee maker, kettle, toaster, mixer, and microwave. The dining area can seat 6 people comfortably.
In the living room, you will find ample seating to sit or curl up with a good book or movie. There is a television with Netflix, a DVD / Blu-Ray player, and a large collection of movies for some evening entertainment. Sit and play a game of cards or choose from an assortment of board games. There is also a selection of music and books.
There is a private telephone line for guest use, and we have provided alarm clocks, beach towels, ironing board and iron, and a hair dryer for your convenience. Downstairs, there is also a laundry room with a washer and dryer for your use.
If you require a baby bathtub, high chair, cot, or crib, ask one of the friendly staff at the main office in Ochre Pit Cove, and we will be happy to bring them down to you.
Outside, you will find a play area, propane BBQ, and a fire pit that is perfect for roasting marshmallows.
$205 per night, tax included.
Stay 6 nights, 7th night is free!
E

Pet Friendly

E

Accommodates up to 6 people

E

1 Queen Bed

E

1 Double Bed

E

2 Twin Beds

E

Ocean View

E

Coffee Maker, Kettle, etc

E

TV, Netflix, Books & DVD's

E

Propane BBQ

E

Ironing Board, Hairdryer etc

E

Play Area
We Can't Wait to Meet You!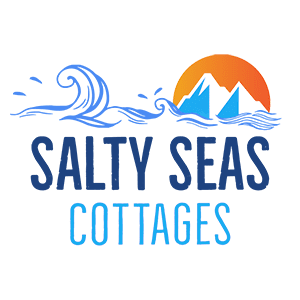 Memories make the best souvenirs – stay with us this year and let Salty Seas Cottages give you the perfect jump start to turning your vacation's moments into memories that will last a lifetime!
Salty Seas Cottages
Ochre Pit Cove Wharf Rd
Ochre Pit Cove, NL
A0A 4G0
Phone: (709) 598-0600
Fax: (709) 598-0600