Salty Seas Cottages are situated on the edge of the Atlantic Ocean, overlooking an active fishing wharf. Cottages are spacious with large picture windows and covered decks that offer ocean views in a private, peaceful setting.
A play area, equipped with a swing set, play house, boat, sandbox, and a number of toys, is available for all of our guests. We also provide bocce ball and horseshoes. Beach towels, baby bath tubs, and high chair are available, upon request, from the office.
There  is a boat on site, as well as a play house, which is great on rainy days.  We also have horseshoes, and bocce ball available.
In the main office, you will find Salty Seas Convenience. We offer snack foods, drinks, basic grocery and personal items, as well as local souvenirs and crafts.
Jackie H, Sept 2020
If you're looking for a cute well equipped rental filled with beautiful ocean views and a glorious sandy beach just moments away then this is the place for you. I didn't want to leave and it was so quaint yet enough room for a family of 6 to feel very comfortable. I felt like I was at my grandmother's house 🙂 and everyone loves Nan's house right. I will definitely be going back and I'll be for sure staying with these folks. Thank you for such a great memorable weekend. Can't wait to do it again . Highly recommended from myself and my family.
Chelsea R, Aug 2019
They thought of everything when they put together their cabins! An abundance of games, books, movies, CDs, a playground, fire pit etc. Beautiful cabin and location! Salty Sea Cottages would be a great place for a family reunion. Will return again!
Sam O, Aug 2019
This is our 3rd year staying at Salty Seas. LOVE IT! My number one thing with rentals is cleanliness. Always super clean. The property is extremely well maintained. I'm from Newfoundland and am always still in awe of the beauty and charm of this place. Sitting on our deck watching whales, down the road a nice beach, lots of sites for urban hunters if you are looking. Peaceful, quiet and reasonable rates.....did I mention CLEAN. The people that run this place are extremely nice and always available. I can't say enough good things about this place. Like I said, 3rd year, might be back again this year if there is availability and will definitely be back next year. We stopped looking for cabins.....this is our go to spot.
ZIa R, June 2019
A group of 6 adults and 2 children, we spent two days and two nights in the Planchen Cottage although I wish we stayed longer. The cottage has everything- all the amenities and comfort, plus a lot of extra stuff delicately chosen for your kids and yourselves showing the expertise of management in the hospitality industry. The location of the cottage couldn't be any better- perfect sea view from the balcony and from one of the three bedrooms. Very highly recommended.
Tom F, July 2018
Just got back from spending a few days at these cottages out in Ochre Pit Cove! The cottage was very clean and friendly staff. If you're looking for a nice place to stay... look no further. And there's beautiful sightseeing in the area.
We Can't Wait to Meet You!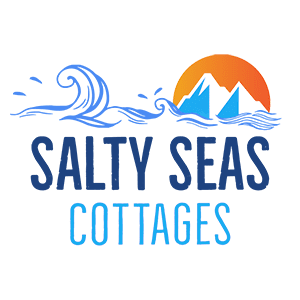 Memories make the best souvenirs – stay with us this year and let Salty Seas Cottages give you the perfect jump start to turning your vacation's moments into memories that will last a lifetime!
Salty Seas Cottages
Ochre Pit Cove Wharf Rd
Ochre Pit Cove, NL
A0A 4G0
Phone: (709) 598-0600
Fax: (709) 598-0600