Welcome to Babiche Cottage!
Babiche Cottage is a welcoming two-bedroom cottage that is pet-friendly.
This cottage can accommodate up to 6 guests with its two bedrooms and a double pullout sofa.
Your Vacation Getaway on the Edge of the Atlantic Ocean!
"Babiche", also spelled "Babbish", is an historical Newfoundland term of Native American origin denoting leather cut into thin strips to be used as lace or rope. It typically referred to the strips of rawhide, sinew, or gut that were used for sewing, lacing, or fastening, such as in "snowshoes webbed with babiche."

Description & Amenities
Babiche Cottage is a welcoming two-bedroom cottage that is pet-friendly. Newly constructed in 2014, it can accommodate up to 6 people in its two bedrooms and double pullout sofa bed in the living room.
Babiche Cottage has an open-plan kitchen/dining/living area and two spacious bedrooms. The cozy master bedroom features one queen bed, while the second bedroom includes a double bed. All linens are provided, with lots of blankets and quilts to keep you warm year-round.
This cottage sports a large fully equipped kitchen area, as well as lots of room around the table so that elbow room is never an issue. We have provided all of the dishes, glassware, utensils, and pots and pans that you will need for cooking or baking, complete with small appliances such as a coffee maker, kettle, toaster, and microwave.
The cozy living room has lots of relaxed seating and offers a full selection of books, board games, music, free WiFi, Netflix TV and a selection of DVDs. There is a private telephone line for guest use in the laundry facility by the main office. Alarm clocks and hair dryers are in the cottage for your convenience.
Laundry facilities are on site (in the office building) with washers, dryer, ironing board, and iron. If you require a baby bathtub, high chair or beach towels, ask any of our friendly staff at the main office and they will be happy to supply these as well. There is a play area on site, with lots of room to run and play. There is also a convenience / craft store located at the main office. All of our crafts are locally made.
Outside, you will find a covered deck with chairs and rockers, the perfect place to sit and unwind at the end of a day spend exploring. Also equipped with a propane BBQ and a fire pit.
$165per night, tax included.
Stay 6 nights, 7th night is free!
E

Pet Friendly

E

Accommodates up to 6 people

E

1 Queen Bed

E

1 Double Bed

E

1 Double Pull Out Sofabed

E

Ocean View

E

Coffee Maker, Kettle, etc

E

TV, Netflix, Books & DVD's

E

Propane BBQ

E

Ironing Board, Hairdryer etc

E

Play Area
We Can't Wait to Meet You!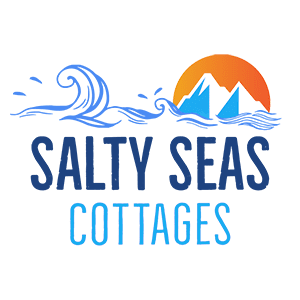 Memories make the best souvenirs – stay with us this year and let Salty Seas Cottages give you the perfect jump start to turning your vacation's moments into memories that will last a lifetime!
Salty Seas Cottages
Ochre Pit Cove Wharf Rd
Ochre Pit Cove, NL
A0A 4G0
Phone: (709) 598-0600
Fax: (709) 598-0600