Arrival Time: Check-in time begins at 3 PM daily. Check-in at other times is available by prior arrangement.
Departure Time: Check-out time is 11 AM. Late check-out may be available upon request.
Occupancy: We allow a maximum of two guests per room.
Parking: On-site private parking is available for all guests.
Pets: Five of our cottages are pet-friendly. While on the property, dogs must be leashed at all times. It is the guest's responsibility to maintain control of their pets. Any incidents involving pets will be the sole responsibility of the pet owner. The owner is responsible for any damages caused by their pet during their stay. 
Smoking: Our cottages are smoke-free. We provide designated areas outside for our smoking guests. For guests who smoke inside the cottages, there will be an extra $100 cleaning fee added to their guest bill.
Payment method: We accept cash, debit, E-Transfer, VISA, MasterCard, and American Express. We are unable to accept personal cheques. 
Reservation Policy: We require a deposit of one night plus tax from all guests to reserve your cottage, with balance due upon check-in. We require payment in full for all walk-in guests.
Cancellation Policy: If you choose to cancel your stay with us more than 48 hours in advance of the 3PM check-in on the date of your arrival, there will be no charges. If you cancel within 24 – 48 hours of the 3PM check-in on the date of your arrival, you will be charged for 50% of the rate. If you cancel within less than 24 hours of the 3PM check-in on the date of your arrival, you will be charged for the entire stay. Early departures are regarded as cancellations.  
We also understand that winter weather can sometimes cause travel disruptions. If you have to cancel your stay with us due to a winter storm, we will reschedule your stay, depending upon availability, at no extra charge.
Housekeeping Policy:  We provide towel exchange and garbage removal every second day. If you prefer that it be done daily, please ask one of our staff, and we would be happy to accommodate you. Cottages are completely sanitized and cleaned for new guests. For stays longer than 7 days, sanitizing and complete bedding change will occur after every 7 days unless otherwise requested.
Telephone Service: Cell phone coverage is unreliable in the area, but a free (within North America), private telephone line is available in the guest laundry facilities, located in the main office building at our Ochre Pit Cove location. All guests are provided with a key to the laundry facilities at check-in. Lassie Jimmie's Cottage in Northern Bay does have a private telephone line. We also provide free wi-fi for each cottage.  
We Can't Wait to Meet You!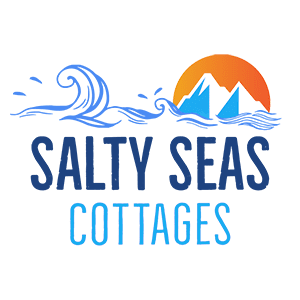 Memories make the best souvenirs – stay with us this year and let Salty Seas Cottages give you the perfect jump start to turning your vacation's moments into memories that will last a lifetime!
Salty Seas Cottages
Ochre Pit Cove Wharf Rd
Ochre Pit Cove, NL
A0A 4G0
Phone: (709) 598-0600
Fax: (709) 598-0600